Tiger nuts have so many amazing nutritional and health benefits, but did you know that they can help give your hair a boost too? Will Hartfield  from  Hair Loss Revolution  who blogs and researches  hair health and hair loss, explains how eating tiger nuts can promote healthy hair…
Anti-Inflammatory
Shown to have anti-inflammatory properties, tiger nuts are an excellent way to combat inflammation-related hair loss or scalp conditions. As you may well know, inflammation is one of your body's defense mechanisms. When inflammation becomes long-term, however, it can cause a number of issues for your hair. One such issue is death of dermal papilla cells. These are cells found on the scalp, and they are responsible for hair growth and regulation. Including  tiger nuts in your diet, however, can help you  combat inflammation – both short-term and long-term – and keep your scalp and hair healthy.
Antioxidant
Antioxidants seem to be all the rage nowadays, and no wonder! These potent, free radical-scavenging molecules protect your cells from damage and keep you – along with your hair and skin – healthy and youthful. As a source of such molecules, then, tiger nuts should play a strong role in your diet.
Anti-Microbial
Bacteria and fungus play a role in a variety of hair-related maladies. From dandruff to folliculitis, these tiny microbes can really hurt healthy hair growth. Tiger nuts, though, are an anti-microbial powerhouse. Protecting you and your hair from the dangers of microbial overgrowth, supplementation can provide you with the healthy scalp you so desire.
So if you want to give you hair boost and add tiger nuts into your daily routine, here is a delicious and  easy-to-make healthy hair smoothie.
Tiger Nut Healthy Hair Smoothie
What You'll Need: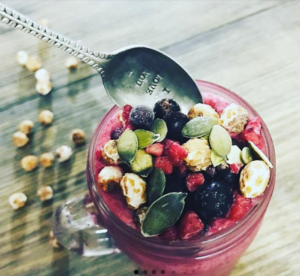 Frozen berries (1 cup)
Tiger Nut powder (2 tbsp)
Coconut oil (2 tbsp)
Yogurt (½ cup)
Pumpkin seed oil (1 tsp)
Filtered water (½ cup – 1 cup)
Method:
Begin by blending the frozen berries, yogurt, and filtered water. Once smooth, add in the coconut oil, tiger nut flour, and a swirl of pumpkin seed oil, which blocks DHT helping hair grow. Add ice if you like, and then blend until desired consistency.
You can add in more or less water as you like, and you can also feel free to substitute the filtered water with coconut water or any other liquid of your choice. With this delicious and easy recipe, you now have no reason to not add tiger nuts – and their various healthy hair benefits – to your diet!