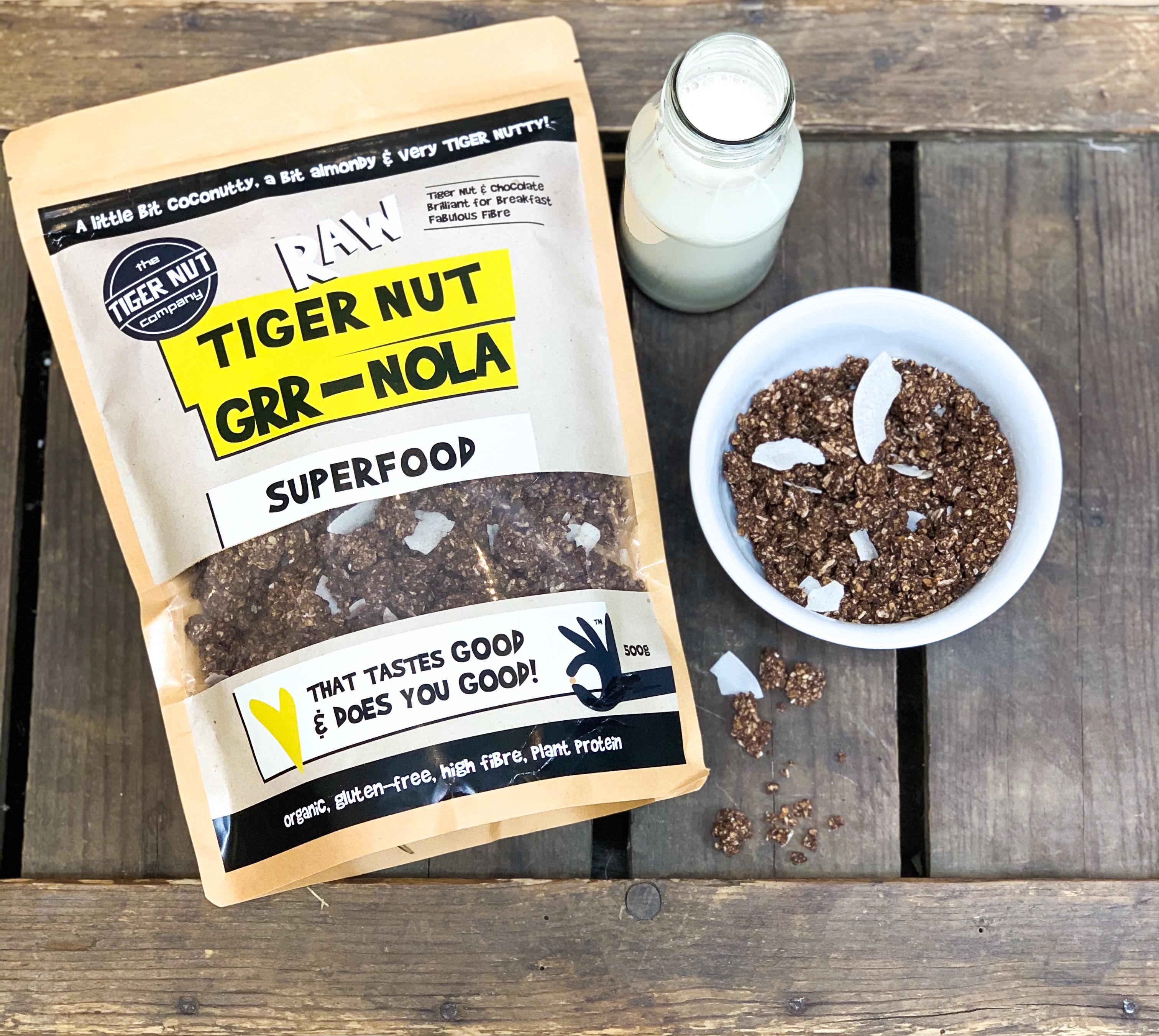 Our Story:
We have family in Spain  and grew up drinking Horchata de Chufa or tiger nut milk in Barcelona, and on one of our regular visits one Summer, we tried some fresh  authentic Horchata freshly made in a Horchataria  and instantly fell in love with it , but its traditionally made with a lot  of sugar , so we looked for a healthier alternative.
We researched tiger nuts and found out how nutrient dense, and seriously good for you they are.Then we tasted one and we were both hooked- how did everyone not know about this incredible little superfood?! We made fresh tiger nut milk from them in our kitchen,  and it was simply amazing!
From here our obsession with all things Tiger Nut began!
We started to drink milk and eat tiger nuts every day.  I noticed some health benefits, I have IBS and gluten intolerance and my gut health improved and also my skin, for example my eye bags disappeared and my skin started to glow. Chris has managed to reverse his type 2 diabetes with a combination of tiger nuts and a  low carb mediterranean  diet.
We want to share and spread our #tigernutlove, and are always working on bringing you new and exciting tiger nut products. Although we are still small we have a ton of passion for tiger nuts and for healthy food!

Health vs Taste?
You don't need to sacrifice on taste to eat healthy.
A healthy diet is important, but enjoying what you eat matters too!
We really know how difficult it can be to find food on a restricted diet that tastes good AND is good for you. But rather than let that restrict us, we get creative, and show how easy it is to put the goodness and taste back into what you eat.
Health issues can be an opportunity to try new, amazing and delicious foods and recipes!
But, our tiger nuts are so much more than an alternative food, they are an incredible food for everyone because they taste delicious, are so versatile and seriously good for you!
Tiger Nuts have been Spain's little secret for hundreds of years, but they are so good, we think everyone, everywhere should share the #tigernutlove!