We love how healthy and delicious tiger nuts are, but not everyone realises that tiger nut flour is so delicious, healthy and versatile! Tiger nut flour  makes the most delicious cakes and biscuits, and although you won't yet find so many mainstream recipes that use tiger nut flour, this is definitely changing.We are blown away with how creative you all are, and how many amazing tiger nut creations and recipes are appearing.
Tiger nut flour is naturally sweet, and so this often means that there is no need for added sweeteners. Tiger nut flour is  gluten  free  which is perfect for coeliacs (our flours are packed in certified gluten free environments) or  for anyone following a gluten free diet. Tiger nuts are high in resistant starch and prebiotic, and so many people are fast recommending them as part of a healing and gut friendly diet, and thet=y can even be eaten as part of a low FODMAP or an Auto Immune Protocol or AIP diet too.
Tiger nut flour is grain free and unprocessed (except for drying and milling ). An original nutrient dense, paleo food that our caveman ancestors ate, and so tiger nuts are fast being recognised as an ideal primal and paleo food.
Tiger nut flour is also really easy to use. So even if you don't usually make your own biscuits, have a go with tiger nut flour – its much easier than you think! It makes the most amazing biscuit base,  which can be eaten raw or cooked, using just a couple of ingredients. You can also try substituting almond flour with tiger nut flour , which usually works out well.
.  Here are a selection of some of our favourite bloggers and tiger nuts biscuits 🙂
Really cute retro Tiger Nut Jammy Dodgers from www.refinedhealth.co.uk gorgeous  tiger nut cookies and raw heart biscuits from the clever Jennifer at www.birdseedtweet.co.au,  tiger nut biscuits from Katie Claire  and some seriously delicious looking chocolate digestives from the lovely Emma at The Nourished Coeliac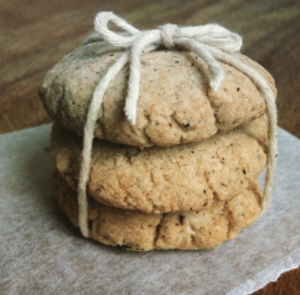 To get you stared here is my seriously easy tiger nut biscuit recipe. This recipe is delicious as it is, or you can use it as a base and add anything you like to it, for example a spoon or two of raw cacao and a little sweetener, or a handful of chopped nuts or fruit can elevate this recipe to something really special. ont forget to send in, or tag me with any tiger nut creations you make
Healthy Tiger Nut Shortbread
75g coconut oil
200g tiger nut powder
½ tsp good vanilla powder
1 tsp baking powder
3 tbsp nut milk or water
Method
Combine ingredients using fingers. Place on board, cover with clingfilm and roll lightly. Cut into shapes and bake in an oven at 160 C/325f until brown (10-15 minutes). Allow to cool and crisp up.
Enjoy!